This sideboard design in walnut is inspired by a three-dimensional S-shape. The curves and finish of this stylish designer sideboard bring elegance to any room. RKNL's signature rounded corners give the piece a stylish, friendly look – Ronald Knol
Dimensions Sideboard Walnut
The starting point for this sideboard is a 4-door version of 180 x 55 cm. However, a 3-door or 5-door is also possible if that works better for you. The doors open easily with a push-to-open system.
Below the standard dimensions. However, other dimensions are possible as well.
4-door – 180 x 55 x 45 cm
The sideboard floats about 25 centimeters above the floor. Do you prefer legs? We then mount aluminum legs of 15 cm high.
Materials and colours
The side board is made of high-quality MDF and real walnut veneer, ensuring a solid feel that is built to last. The exquisite finish and refined details provide a sophisticated look. The sideboard is also available in lacquer. Check out the lacquered version over here.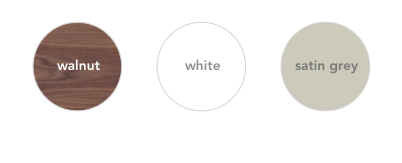 NB: since each piece of veneer is different, each grain and colour is unique!
Pricing
180 x 55 x 45 cm – walnut: € 3.580,00
180 x 55 x 45 cm – satin: € 3.380,00
180 x 55 x 45 cm – high gloss: € 3.620,00
We have a 2 year warranty on all our products. During regular use products should not show defects besides regular wear and tear. The delivery time for this item is 8-10 weeks. For international deliveries, a lead time and transport costs should be added.
Sample
You can order samples to determine which color would suit your home. Simply sent us a message through the contact page or use the below button.