Media unit Curve merges design and functionality. The open space, enclosed by the upper and lower part of the furniture, becomes an integral part of the design. Media equipment is stored in plain sight, making the product practical and aesthetically strong. This designer media console has a double rear wall that creates a hidden container, offering sufficient space for the cables and even a junction box.
Dimensions of the media unit Curve
This media unit is available in size 180 x 52 cm. Other dimensions are available on demand.

Total height of the unit is 45 cm; the piece hovers about 5 cm above the floor. The open space for equipment is 16 cm heigh.

Materials Curve
The media unit Curve is produced using high quality MDF and bent plywood. The semi-transparent panels in the furniture are made of perspex. The piece can be made with self-closing drawers. There are 4 standard colours; custom colours available at surcharge.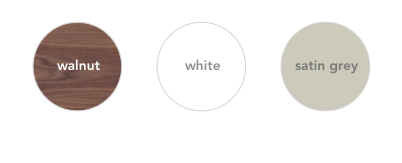 The media unit is available in a high gloss and a satin gloss finish.
Pricing
180 x 52 x 45 cm – satin: € 3.280,00
180 x 52 x 45 cm – high gloss: € 3.520,00
180 x 52 x 45 cm – high walnut: € 3.480,00
The drawers are at surcharge. The delivery time for this item is 10-12 weeks. For international deliveries, a lead time and transport costs should be added. We have a 2 year warranty on all our products.
Samples
You can order samples to determine which color would suit your home. Simply sent us a message through the contact page.