EKKO – Walnut coffee table
The Ekko coffee table is inspired by tacit movement. It appears ready to sprint away. Due to the position of the matt black legs, the top of the table seems to float in the space. This walnut coffee table is dynamic, practical and exciting. A piece of furniture with its very own character. Clearly my style of design – Ronald Knol
Secret storage
A coffee table should be beautiful, but also practical. That is why the Ekko has a 40 by 60 cm tray in which remote controls, magazines and tablets will disappear. This way the table top stays empty and keeps its clean appearance. The drawer is designed in a way that is does not stand out in the flame of the walnut. This way the Ekko keeps its sleek design.
Special legs
The black legs of this walnut coffee table are made of solid steel. In order to minimize reflection, they have been sprayed with an ultra-matt coating. This special powder coating is used in photo studios because it absorbs the light almost completely. The Ekko legs protrude through the sides of the table top and are kept pretty slim so the table top doesn't look too solid.
Made by a professional
Like all other RKNL designs, the walnut Ekko is made by a Dutch furniture maker. A craftsman with love for wood and an eye for design. He creates beautiful furniture that lasts for years. For the walnut coffee table he uses high-quality veneer. Because the flaming and the color of the walnut varies, each piece of furniture is unique. To protect the Ekko coffee table from moisture and dirt, the furniture maker finished each piece off with a hardwax oil. This is how the walnut retains its warm appearance for years.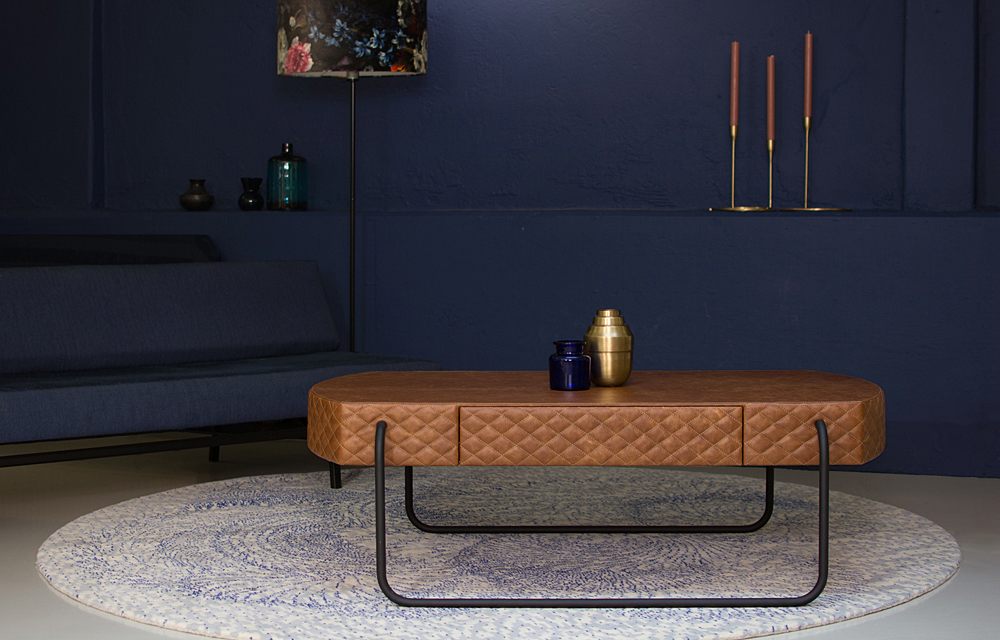 Prefer leather? The Ekko coffee table is also available in leather. It has the same dynamic look as his noble brother and is just as practical with a hidden drawer.
Check out the Ekko coffee table here.
Dimensions & Prices
Walnut Ekko 135 x 80 x 42 cm – € 1.580,00
Leather Ekko 135 x 80 x 42cm – € 2,620.00
Transport costs for delivery in the Netherlands are included in the price. The guarantee on the coffee table is 2 years. Since the leather coffee table Ekko is handmade, we have a delivery time of 10-12 weeks in the Netherlands.
Request sample
At RKNL we understand that the purchase of a coffee table is a big decision. Moreover, deciding which of the two styles fits your interior best is quite a choice to be made. Therefore, we recommend that you request a sample. And because we think it's important to make the right choice, well send you a sample free of charge.
View Ekko
Why not come and view Ekko at our Amsterdam studio? Please email us to make an appointment or click the button below.