One is a dining table that unites dueling personalities – it is at once elegant and raw. The long side of the table has a soft silhouette, while the short side has a hard, coarse energy. The grain of the walnut wood is carefully placed to run in a single direction, giving the illusion that it was created out of a single log – Ronald Knol
Dimensions One
The One is available in three standard editions. However, a big advantage of the production per piece is that we can adjust the dimensions of the table. Do you prefer this wooden dining table to be bigger? No problem. You can vary in length, width and height. With a maximum length of 300 cm.
The standard dimensions are:
200 x 100 x 75 cm
240 x 100 x 75 cm
300 x 100 x 75 cm
Please do not hesitate to contact us for other dimensions.
Materials One
The One dining table is made of plywood and walnut veneer. Oak veneer is available as well.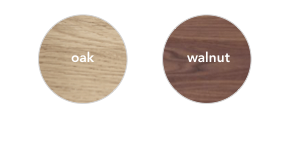 Our dining table is finished with a very strong, matte lacquer for the natural look. It is therefore resistant to moisture, dirt and other traces of daily use. When placing the table, make sure that the room in which the table is located is not too dry. Since it is a natural product, the drawing of each table is different.
Pricing
American Walnut – 200 x 100 x 75 cm: € 3.090,00
American Walnut – 240 x 100 x 75 cm: € 3.140,00
American Walnut – 300 x 100 x 75 cm: € 3.430,00
For pricing of the Oak version, check here.
The delivery time for this item is 8-10 weeks. For international deliveries, a lead time should be added. We have a 2 year warranty on all our products.
Samples
You can order samples to determine which color would suit your home. Simply sent us a message through the contact page or below orange button.