EKKO – Leather Coffee Table
The Ekko is an elegant leather coffee table with a unique character. The matt black legs on the side give the Ekko an almost animalesque appearance, as if it could walk right out of the room. This tacit movement is at the heart of the design. Inspired by nature. – Ronald Knol
Motor saddle leather
A true craftsman covers the leather Ekko: a motor bike saddler. On the side of the leather coffee table, he uses a diamond stitch pattern, a well-known technique for coating saddles. This diamond stitch truly determines the appearance of the Ekko. At RKNL we therefore are extremely proud of our motorbike seat maker. He is the only one who gets the leather to fit so smoothly, while aligning the side pattern perfectly with the design.
No worries about coffee or tea stains!
Ekko's extremely strong leather is made to handle weather, wind and high speeds. So whatever you hit it with … even a glass of red wine, it will survive. The leather has a moisture and dirt repellent coating that protects the surface very well. No problem if you spill a drink.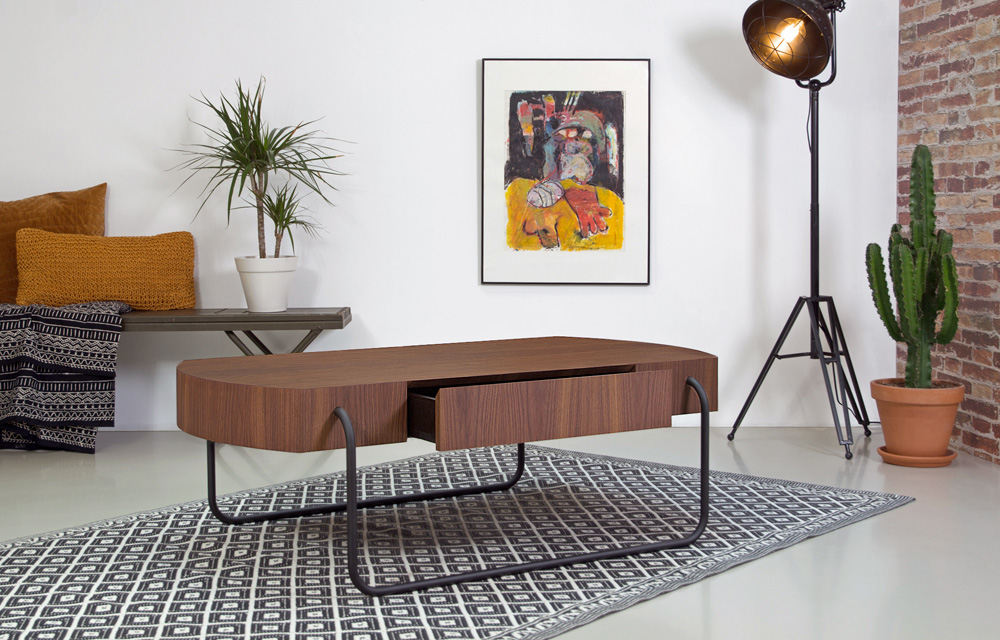 No lover of leather? The Ekko is also available in walnut. It has the same dynamic appearance as its leather brother, but a somewhat sleeker modern look.
Click here for the Ekko in walnut.
Dimensions & Prices
Walnut Ekko 135 x 80 x 42 cm – € 1.580,00
Leather Ekko 135 x 80 x 42cm – € 2,620.00
Transport costs for delivery in the Netherlands are included in the price. The guarantee on the coffee table is 2 years. Since the leather coffee table Ekko is handmade, we have a delivery time of 10-12 weeks in the Netherlands.
Request sample
At RKNL we understand that the purchase of a coffee table is a big decision. Moreover, deciding which of the two styles fits your interior best is quite a choice to be made. Therefore, we recommend that you request a sample. And because we think it's important to make the right choice, well send you a sample free of charge.
View Ekko
Why not come and view Ekko at our Amsterdam studio? Please email us to make an appointment or click the button below.